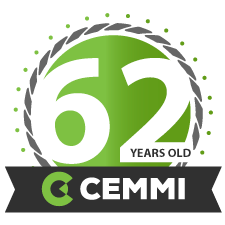 CEMMI is a 100% national company, leader in the manufacture of pumps with replaceable lining, used for the extraction of ores.
Founded in 1963, CEMMI provides creative, simple, and practical solutions to increase the productivity of its clients.
For over 50 years, CEMMI has been synonymous with quality and pioneering spirit.
Since 1993, it has added to its scope the manufacture of diesel engine pistons, being granted ISO 9001 certification.
Strategically located next to the Presidente Castelo Branco Highway, in Jandira, Greater São Paulo, it operates throughout the national territory, as well as in countries in Latin America and Africa.
MISSION:
Perpetuate the CEMMI brand as a synonym for quality, pioneering spirit and ethics, aiming at the satisfaction of our clients.
VISION:
Be a reference of excellence in products and services in the segments in which it operates.
VALUES:
Client satisfaction, excellence with simplicity, reliability and respect for people and the environment.